LHBD events

Upcoming event
Be sure to check back soon as we will be updating this page throughout the year.
---
Past events
Researchers' Night
September 27, 2019 (17:00-24:00)
Filoxenia Conference Center, Nicosia
Under the joint booth entitled "What is the relation of the brain with the Universe?", AAISCS and the Astrophysics and High Performance Computing (AHPC) research group of the Department of Computer Science and Engineering of European University Cyprus, demonstrated to the general public how the study of two seemingly unrelated applied sciences, i.e. astrophysics and neuroscience, can be brought together under the interdisciplinary scientific area of network science.
The European Researchers' Night is a creative night-time event dedicated to science and research, through experiments, games, competitions and music. It is organised by the Research and Innovation Foundation (RIF) in collaboration with academic and research institutions as well as other organisations in Cyprus. The event is an initiative of the European Commission and takes place simultaneously in almost all European countries. Around 10,000 people attended the event and had the chance to get acquainted with various scientific activities.
Audiences of different ages had the opportunity to meet up with Cypriot researchers and see their work, in a festive, friendly atmosphere. In each stand researchers presented their work and informed the public about the role and importance of research in the modern world as well as the practical applications of their research results in everyday life. At the same time, participants had the opportunity to engage in hands-on experiments and become researchers for one night.
Specifically, AAISCS presented the following activities during the event: (1) To learn a variety of neuroscience applications related to the recognition of special needs and talents from elementary to deep adulthood, to understand the neuronal mechanisms related to smoking addiction and to learn about recent sleep studies that have given a new interpretation of how brain processes create the image of ourselves. (2) Exploit network science to visualize the distribution of galaxies in the observable universe, to seek relations between activities of brain areas under various stimuli and to find out their best matching persons in a few minutes! In particular, the participants could see through powerful visualization tools clusters of galaxies of similar galactic properties, clusters of human subjects of similar brain activity under the same stimuli and to see him/herself in a cluster of other known persons who matches them best. (3) A popular interactive game on sleep related questions.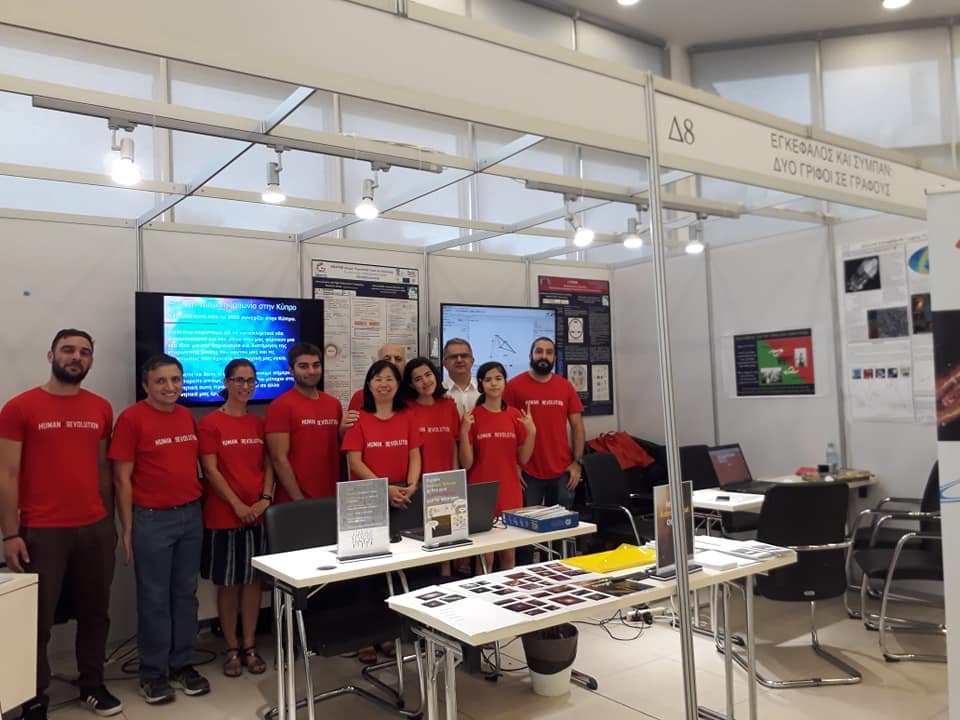 ---
Free Public Event on the World NO Tobacco Day
31 May 2017 (Wednesday)
Please refer to Mass Media for coverage on the event in Newspaper print and TV programs/interviews.
9:00 - 15:00
You are invited to join us to learn more about an EU sponsored project "Multidisciplinary tools for improving the efficacy of public prevention measures against smoking (SmokeFreeBrain)".

We can help you stop smoking in a totally non-invasive way.
You can join in the research as a participant or partner.
Presentation at 10am, 12am, 2pm
Live demo at 11am and 1pm
Venue: AAISCS premises at Galaxias Suite 501, 33 Arch Makarios III Avenue, Nicosia
Please download event flyer here in English / Greek
17:00 - 19:00
A joint open event in collobaration with the School of Sciences of European University Cyprus, come to learn more about the project and explore opportunities:
Participate if you smoke but want to quit

Participate in the research through targeted small projects and thesis work

Join as partner in future research projects based on the findings of the project and further analysis of the data collected
Venue: Cafeteria of the European University Cyprus
Please download event flyer here in English
Event Contact: 22 460 228 or info@aaiscs.com
The SmokeFreeBrain project has received funding from the European Union's Horizon 2020 research and innovation program (grant agreement No 681120)
---
Conclusion and Outlook for the project "Dynamic Electric Field Tomography (DEFT) and its applications"
February 18, 2015 (Wednesday)
15:00 - 20:00
Centrum Hotel, Nicosia, Cyprus
Part I: Scientific Symposium: Geography and Dynamics in the Human Brain.
15:00 – 18:00 (English)

Challenges in imaging the electrical activity of the brain
Spatial and temporal information from brain measurements
What is it like for a brain to be a dynamical system
Geography and brain dynamics in traumatic brain injury




Coffee break and free discussion 18:00 – 18:30





Part II: Where science serves society and the public meets scientists -
Presentation of the DEFT project: conclusion, outlook and future services
to the public. 18:30-20:00 (English and Greek)



Please download event flyer here in English / Greek

Event program in English / Greek

Please pre-register the event here or
download the registration form (EN / GR) to complete and fax to us at 22 028 060



---
Dynamic Electric Field Tomography (DEFT) and its applications
November 19, 2012 (Monday)
18:00 - 20:00
Centrum Hotel, Nicosia, Cyprus
The event introduced the project "Dynamic Electric Field Tomography (DEFT) and its applications" and covered related projects and the history that led to its initiation. The event announcement can be found here in English or Greek.
The presentation of Dr. John Stein can be downloaded from here.
See the photo album.

---
Child development and dyslexia
November 15 - 17, 2012
Lordos Beach Hotel, Larnaca, Cyprus
The conference organized by AAI Scientific Cultural Services Ltd. brought together researchers, individuals and organizations who have interest in various aspects of learning difficulty in children. It covered topics related to recent advances in dyslexia using psychology, cognitive science, developmental science, clinical neuroscience, brain imaging, neurophysiology and information technology.
See the photo album.
Visit the conference website here.
---
Where the science serves the society and the public meets the scientists
February 24, 2011 (Thursday)
Afternoon (13:30 - 17:00) and evening (18:00 - 21:00) sessions
For additional information please see the announcement and the program for the afternoon (announcement / program) and evening (announcement / program) sessions.
---
Individual improved cognitive diagnosis for children
One day event on research in dyslexia
February 25, 2011 (Friday)
18:00 - 21:00
For additional information please see the announcement and the program.
---
Consciousness and its Measures
November 29 - December 1, 2009
St. Raphael Hotel, Limassol, Cyprus
The conference, which brought together over 100 delegates, including some distinguished scientists from almost every EU country and some from as far away as North America, Japan and Australia, was organized jointly by AAI Scientific Cultural Services Ltd. and Department of Psychology at the University of Cyprus and was made up by the joint workshop for COST (European Cooperation in the field of Scientific and Technical Research) actions NeuroMath (BM0601) and Consciousness (BM0605). More ...
---
Foundation Themes for Advanced EEG/MEG Data Analysis
December 2 - 4, 2009
St. Raphael Hotel, Limassol and our premises Nicosia, Cyprus
The three-day satellite course followed the Consciousness and its Measures conference. It covered both the the theory and practice of EEG/MEG data analysis, and consisted of two distnict parts: (1) a one-day intensive theoretical workshop and (2) two-day hands-on practical sessions. Twenty-six trainees and 13 lecturers participated in the course. More ...
---
Researcher's Night
September 25, 2009
State Fair of Cyprus, Nicosia
The event was organised by the Cyprus Research Promotion Foundation (RPF) under the theme of Information and Communication Technologies. Its main purpose was to enhance the public image of researchers and show the important role they play in society, while encouraging young people to pursue careers in research. See the photo album.
---
LHBD Open Day
May 29, 2009
An inaugural event marking the presence of our laboratory in Cyprus. More ...
---